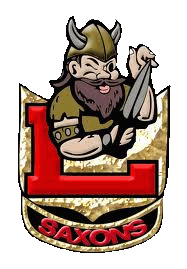 Loara Saxons Alumni Association
ALL GRADUATING CLASSES ARE REPRESENTED
Original L O A R A field show banners (aka "sails") and flags.
(picture from 1965 Seaxe)
The Story of the LOARA Banners
A short history of marching/parade band banners
From the forum website World of Pageantry "the very first Southern California parade band to use individual shields/letters for the identification unit was El Cajon HS of San Diego under the direction of Benton L. Minor. Benton used this concept for the first time at the Long Beach All-Western Band Review as "something to help give the band an edge in showmanship for that event." He started the entire individual shield/letter concept in the late 1950's. One of the very first (if not the first) Southern California parade band to use "reflective spangles" (eye catcher, solar ray, etc.) on the identification units was the Anaheim HS Band of 1963. Don Wilcox (band director) saw the reflective letters on the back of a truck being used for advertisement. He stopped the driver and asked where he purchased the reflective spangles, and the rest is history." Other examples [of banners and pageantry] from the past are the giant VILLA PARK letters, the Mt. Miguel fans, the La Canada torches from the 70's, El Cajon's fanfare ending using a gong, Garden Grove's Argonaut in a chariot with two timpani, various real muskets, guns, cannon and other WMDs ... and of course the often copied Loara banners.
The beginning of Loara's "often copied" banners
It would appear in an e-mail to Diane Schoelles ('75) and Mary Lemar from Jerry Webb (band parents) that Mr. Marino presented the idea of the banners and flags to the band boosters in the summer of 1964 (for the 1964/1965 school year).
"From: Jerry Webb
Date: 03/16/2017 15:34
Hi Diane & Mary.
Diane, my middle name is also Marie.
It has been 53 years ago in summer of 1964 that Mary Gansereit (deceased) and I undertook constructing the original 'sails' for the band. Mr. Marino had appeared at a band booster meeting with a diagram of 7 proposed banners & 7 flags asking for financial help. I recently gave this paper & one of the original spare tassels to Mary for whoever might want them.
The group turned him down ... "get your head out of the clouds & present something practical" suggestion. Personally, I could visualize these banners leading the band in their new uniforms down the street. I sent him a note saying I could sew & would be glad to tackle the red/white flags. He asked if I would try to make the banners. Mary Gansereit signed on to the project.
Not knowing if the board would go along, we checked the remnant tables of Woolworths & bought white nurses Dacron material in lengths long enough to make 7 double-sided banners. The letters were made of black satiny material which we attached to Pellon interfacing. Many pieces of snap-on tape were sewed around the edges of the letters & onto the front sides of the Pellon which would make the banners washable if needed. Red sequins (were) sewn around the edges.
These 'sail' banners were bowed with 2 vertical pockets in them which held 5 small flexible metal rods in bowed position as in Marino's pic(ture). [They were d]ifficult to control perfectly in breeze so [we] made mesh banners with snap-on tape on them. SAME LETTERS USED ON BOTH SETS OF BANNERS. Sails used in most heavy competition such as All Western in Long Beach, etc. If half time football show Fri. night, used sails then mesh ones next day for parade, etc. Mary G. & I for 3 years rode bus with banner girls then would switch letters after 1st weekend competition.
I live in independent living facility so need to pause/go to lunch. Will return as have lots more.
Jerry
Original LOARA parade banners and flags
(picture from 1965 Seaxe)
LOARA parade banners, heraldry banners, crest banners and flags
(picture from 1975 Seaxe)
Additions to the banners and reconstruction
Unfortunately, Jerry and Diane did not reconnect after that email to find out the "lots more"; however, it is apparent from Seaxe photographs that two banners with a shield/helmet were added to the parade lineup, and those two were changed to a simplified shield sometime about the fall of 1970. Also added about 1970 were 8 each of two other banners ... the Heraldry (or Icon) banner and the Loara Crest banner. All of the banners were carried on 12' wooden poles with a 9" brass spear attached to the top, and they would be used until the 1979 Fall season.
In 2018, the LSAA was given banners from the band room which was being refurbished. These consisted of Letter-, Shield-, Crest-, and Heraldry banners that are believed dated from the early 1970's. Upon inspection of those banners, Jerry's email with respect to how they were made makes a lot more sense.

Prior to receiving the band room banners, Loara's Class of '75 wanted to do something that would set them apart from other classes for their 2015 40th reunion. The Reunion Committee accepted Diane's offer to "reconstruct" the band's parade (mesh) version of the letter banners, and those banners were donated at that reunion to the LSAA for their memoribilia collection.
Sources
-World of Pageanty forum http://worldofpageantry.com/forums/viewtopic.php?f=1&t=5976
-Diane Schoelles ('75)
-Jerry Webb and Mary Lamar (band boosters)
-Loara Seaxe (1965 and 1975)
LOARA parade banners dated approx. 1970. Given to LSAA by Loara band in 2018.
L O A R A crest and heraldry banners (and detail) dated approx. 1970. Given to LSAA by Loara band in 2018.
Reconstruction of LOARA parade banners. Donated to LSAA for display purposes and use.